how EY ZHN added strategy and "color" in the corporate team building activity.
Just a few kilometers off-Athens' city center, in Neos Cosmos -a relatively low-cost neighborhood-, an old auto-parts' warehouse was selected to host EY ZHN's first office space. The 20m2 wiggly shelter was selected and was turned to a pleasant workspace where Costis, Yannis and Thanassis would start planning their new entrepreneurial future.
It took a lot of late-night hours and hard construction work, entirely provided by those three, to build from scratch an inspirational cozy place ready to welcome clients and new experiences!
Their priority was to introduce an activity that would combine nature, adventure, innovation, and the perspective of a consistent income. Paintball was such an activity and EY ZHN decided to invest upon.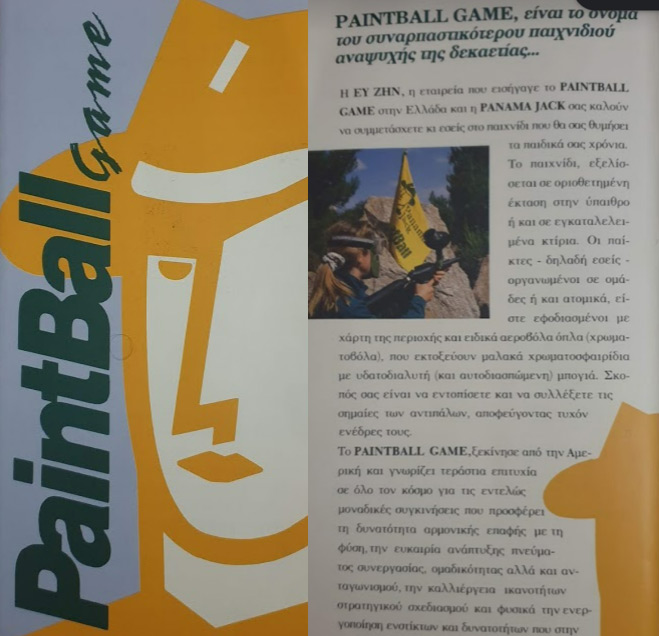 The forest of Mavrosouvala, 30km NE of Athens was the "action field" chosen for the set up and necessary preparations. A colorful "start-up" activity, at a time when the term "start-up" was not even invented yet.
The bureaucracy of Greece's State and Authorities turned the start-up of a totally unknown activity to a nightmare. Customs Office could not classify these new gear and dispensable stuff, certification of the biodegradable and water-soluble colors seemed impossible, the necessary permits from the National Forestry Authority would take years to secure, and more… Costis, Yannis and Thanassis managed to quickly tackle all those issues and the first paintball "fights" started in October 1991. The game soon became popular as much in groups of friends as did in groups of employees. For more than two years, the 3 co-founders, welcomed the enthusiastic and curious soon-to-be paintball fans, engaging them into the secrets of this new trend!
A crazy yet bold idea, Paintball, was the beginning of the evolvement of EY ZHN to a company oriented to the triptych: Innovation – Quality – Environment. Focused, even from their initial steps, to the corporate clientele by offering ideas and events aiming to create lasting experiences through the engagement with nature, fellow colleagues, common interests.
With a lot of hard work and persistence, the brand ΕΥ ΖΗΝ soon became a synonym of adventure and lifetime experiences, in Greece and abroad.
To be continued…